For those of us that never tire of a well made sudoku challenge, Finnish mathematician, Arto Inkala has made what he claims is the hardest sudoku puzzle ever. According to the Finnish puzzle maker "I called the puzzle AI Escargot, because it looks like a snail. Solving it is like an intellectual culinary pleasure. AI are my initials".
If you're open for the challenge, AI Escargot presumably requires you to wrap your brain around eight casual relationships simultaneously, whereas your everyday "very hard" sudoku piece, only require you to think about a meager one or two of these relationships at once.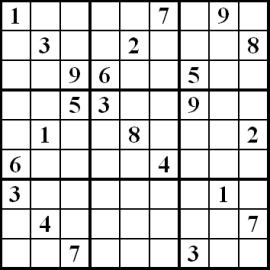 AI Escargot
Play Sudoku Epic
Sudoku Epic is a free, premium quality Sudoku game and is available on most platforms: PC, Mac, iPhone, iPad, Android, Google Play Store, Amazon Appstore, Blackberry and more!
Sudoku Epic
on Google Play
Sudoku Epic
on iPhone/iPad